'Vessels of Magic' 2021
Paper vessels with spray paint and cochineal
60 cm x 40 cm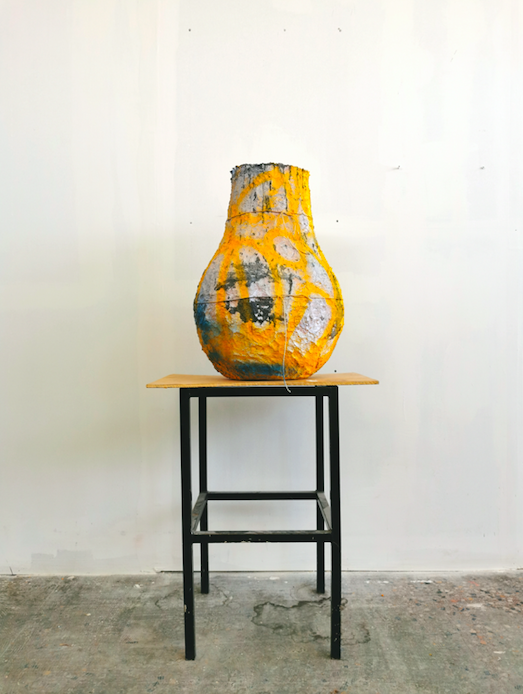 Task 1: Choose a pot. I made these pots inspired by the Lenca people from El Salvador, a lost civilization, language and visual culture from my home country.

Task 2: Break apart and destroy the pot. Completely remove its form and visual language.Task 3: Create something from the remains and place it in front of the projection, which shows layered clips of my studio, a student making work and my family in El Salvador making chocolate. All forms of making that are connected through me. These experiences are 'intra-acting' within me nourishing my pedagogical practice. Layers of practice and making overlap and sprout new forms of knowledge that may take immeasurable lengths of time to reflect on.
Processes are where we learn
In my performance installation 'Doing and Undoing' ( 2019 ) at Goldsmiths University I presented a collection of Papier Mache pots I created in my studio over six months. The forms were inspired by the pottery of the Lenca civilization. The materials were crucial in the work as the paper and the construction of the forms rendered them useless as objects. I asked the audience to destroy the work by crushing the pots and using the remains to create their own objects, subsequently ridding of the Lenca reference. I wanted to make the point that it is not in the final outcome that we learn but in the process. The act of destroying the pots was an act of collective undoing in which the materials informed learning. The outcome became unimportant and the not knowing became pedagogical. I wanted to send the message of things never ending, learning never ending.